Embark on a journey of learning and discovery!
Unlock a world of exploration and creativity with the Wooden Busy Board Switch Control! Specifically designed for curious young minds, this innovative toy combines tactile engagement with the magic of LED technology to offer a multi-sensory learning experience like no other!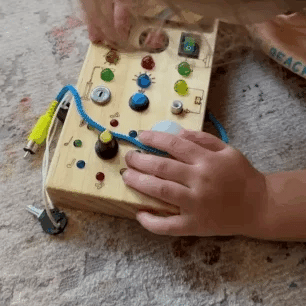 This is how a Wooden Busy Board Switch Control will help your child's development!
Early Brain Development
Aids in the development of fine motor skills
Helps improve hand-eye coordination
Promotes imaginative play and creativity
Sensory Stimulation

Unleash Creativity and Learning with the Wooden Busy Board Switch Control!
Watch in amazement as your child's eyes light up with every press! The colorful LED switches add an extra layer of excitement to playtime, promoting visual recognition and hand-eye coordination!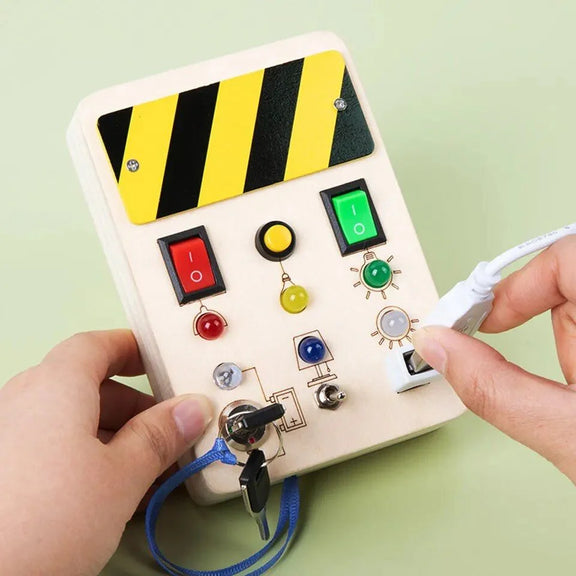 Where Learning Meets Play!
Our Busy Board offers unique challenges, promoting cognitive development, logical thinking and motor skills. With interactive elements, children learn to recognize colors in a fun, playful way! But most importantly, your child will learn by playing in asafe environment. As it is designed with eco-friendly materials, ensuring safety and security during play!
Size: 5" x 3.4" x 1,1" (12.7cm x 8.7cm x 3cm)

Size of the enhanced version : 7.87" x 3.93" x 1,18" (20cm x 10cm x 3.5cm)